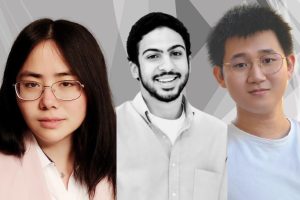 Three PhD students in the Department of Mechanical Engineering have been selected as participants and presenters at this year's Gordon Research Conference (GRC) on Multifunctional Materials and Structures.  The three recipients, Beijun Shen, Mostafa Omar, and Bohan Sun, have all earned travel stipends for their attendance as well.  All three students are advised by Sung Hoon Kang, assistant professor in Mechanical Engineering, who will be presenting on "Self-Adaptive Materials and Structures for Aerospace Applications."
Along with their travel stipends, all three students will have the opportunity to present their research at the poster presentation sessions.
This conference unites varying disciplines to create a greater understanding of imparting intelligent systems on self-learning structures, the goal of which to create autonomous, adaptive systems.  Through sessions on robotics, bio- and chemical-intelligence, aerospace, and autonomous manufacturing, the GRC brings together researchers from material science, physics, chemistry, biology, mathematics, computational science, and engineering to tackle these topics.
The GRC will be held in Ventura, California from September 25-30, 2022.  For more information on the Gordon Research Conference, click here.