The Johns Hopkins Department of Mechanical Engineering values the perspectives and contributions that each unique individual, including women, underrepresented minorities, LGBTQ+, and differently-abled, can bring to our discipline. And we believe that everyone has the right to work and study in a supportive environment that fosters a sense of belonging and respect.
This page offers an overview of the concrete steps our department is taking to develop a more diverse and inclusive community. It will be updated as additional actions are implemented.
Progress: Fall 2021 Climate Survey
In the fall of 2021, the Department surveyed the undergraduate and graduate students, postdoctoral associates, staff, and faculty to determine how well we uphold our values. The survey questions ask about the experiences, observations, and perceptions of the members of our community.
A Closer Look at Climate Survey Responses:
Overall, most of the survey respondents believed that the Department is an inclusive and equitable department. However, the surveys also identified several important issues that need to be addressed to make Mechanical Engineering a more diverse, inclusive, and equitable department.
Across all Climate Survey responses, four central themes emerged:
Recruit more women and underrepresented students at all levels
A need to better support students with disabilities

Increase efforts to foster

 a sense of belonging, respect, and fairness for international, women, and underrepresented students
Have more productive conversations about race and racism, instead of avoiding them
Taking Action
We have taken the following initial steps to address issues raised in the survey:
Annalisa Peterson recently joined JHU as the ombudsperson for PhD students and postdoctoral scholars. The role of an independent ombudsperson is to provide a confidential place for students to discuss their concerns and to help students address those concerns. We recommend that the Department email graduate students and postdocs once a semester information about the role of ombudsman and the Office for Institutional Equity (OIE) and to encourage students to contact the ombudsperson to discuss their concerns and to report to OIE instances of harassment.
Student and postdoc representatives of the D&I committee have created a Google Form for anonymous feedback and anonymous reporting of specific mistreatment or similar issues.
We will engage with Catherine Axe, Executive Director of Student Disabilities Services to develop procedures that can better support graduate students with disabilities.
We are brainstorming ideas on how we can better support our international students, and how to further promote mutual respect and cultural sensitivity between students, and between students and faculty.
Diversity and Inclusion Committee
The mission of the Diversity and Inclusion Committee is to guide the department to develop and implement research-grounded initiatives that will ensure a safe space for all in our community, to foster inclusivity, and to ensure that we succeed as individuals and together. As of Fall 2022, the committee includes the following members:
(Click to enlarge)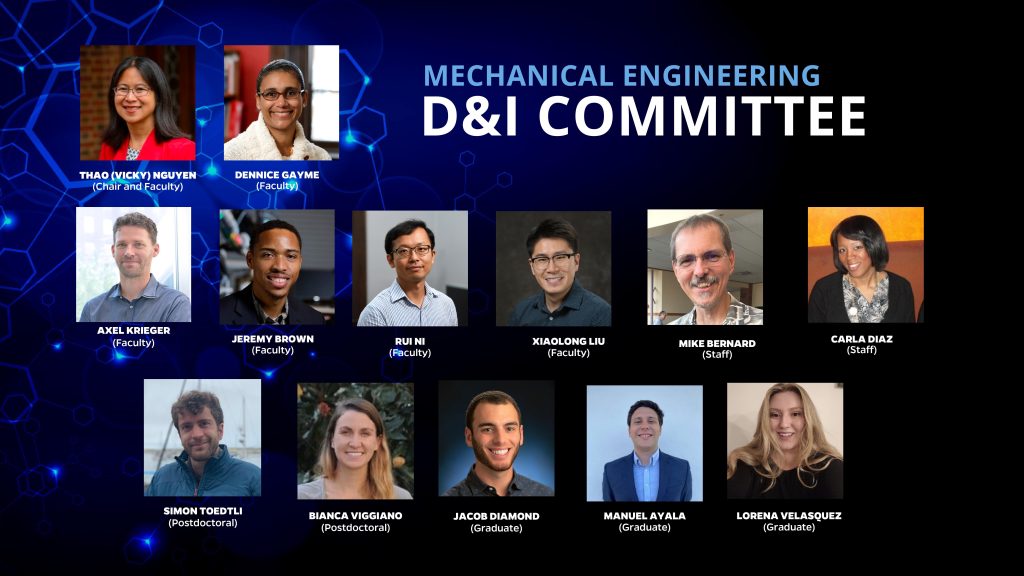 Let us know your thoughts about the department's climate and culture - and how to improve it. Feedback can be anonymous and will be reviewed by the Diversity and Inclusion Committee monthly.

*This form does not replace existing campus procedures for reporting incidents of harassment or discrimination. Contact the Office of Institutional Equity to get help.

University and School Resources
We have compiled a list of helpful diversity-related resources for our students, faculty, and staff. The list comprises training and education, information on divisional and university initiatives, groups and committees, and more.
Fellowships & Scholarships
The Department of Mechanical Engineering and the Whiting School of Engineering offer fellowships, scholarships, and incentives to PhD and master's students from underrepresented groups. Full-time degree seeking graduate students are automatically considered for the fellowships.
Student Affinity Groups
Across the University, Johns Hopkins students, faculty, postdocs, and trainees have founded a vast range of affinity groups and committees concerned with diversity, to bring individuals with similar backgrounds, cultures, interests, and ambitions together in community or common purpose.
Student Spotlight
Mechanical engineering third-year Bridgette Kim was awarded the highly competitive DoD SMART Scholarship. Next summer, she will work on submersible vehicle technology as an intern at the Naval Surface Warfare Center in Norfolk, Virginia.