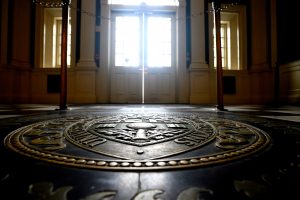 Chen Li, assistant professor of mechanical engineering, is among the 2019 Catalyst Award recipients announced June 6 by Johns Hopkins University.
The university introduced the Catalyst Awards in 2015 to support the efforts of early-career faculty members whose work has shown originality and made an impact in their respective fields.
Li is one of 33 faculty members from numerous departments across Johns Hopkins to be honored this year. A $75,000 grant is given to each of the awardees to support their work in the coming year.
"By supporting the creative and ambitious research of early-career faculty, we are investing not only in the future of these exceptional scholars but of the entire academic enterprise," Johns Hopkins University President Ronald J. Daniels says. "And there is no more urgent time than the present to renew our commitment to those whose ideas will improve the condition of our world and its people."
The Catalyst Awards program is open to any full-time faculty member appointed to a tenure-track position at least three and no more than 10 years ago. More than 90 senior faculty members from across the university served on the committee that selected the awardees from a pool of 115 submissions.
Li's research aims to create terradynamics, a new field at the interface of biology, robotics, and physics. Li's lab uses the principles of terradynamics to understand animal movement and to advance robot mobility. His recent research has uncovered how snakes climb over large steps and how cockroaches move across cluttered obstacles; his team has created bio-inspired robots capable of doing so robustly.
In addition to the Catalyst Award, Li was recently selected as an alumnus of the Kavli Frontiers of Science, sponsored by the US National Academy of Sciences, and was invited to present a poster at the organization's 30th Annual U.S. Symposium at the Beckman Center.
Visit the Hub for the full list of Catalyst Award recipients >>