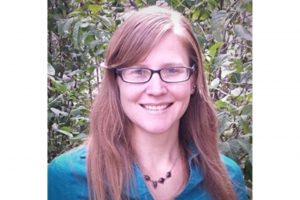 Alea German, BS '04
Hometown: Sonoma, CA
Current City: Manitou Springs, CO 
Current Position: Engineering Manager, Frontier Energy 
---
Q: Can you describe your current role at Frontier Energy?
I consult on and conduct research related to energy efficiency in the built environment. My work focuses on whole building energy optimization, technology assessment, and code development in California, particularly as it relates to zero net energy design and electrification of buildings. I do energy modeling to estimate energy use of homes and commercial buildings and evaluate the impact of different components such as efficient HVAC systems, switching from gas to electric heating, or increasing insulation levels. Over my career, I've had the opportunity to contribute to research evaluations of residential technologies such as ventilation cooling, air to water heat pumps, and heat pump water heaters, and conduct field surveying and testing. I work directly with implementers such as builders, architects, and contractors, as well as with local, state, and federal agencies.
Developing building codes may not sound like the most exciting work, but it can be quite gratifying. California's energy code is one of the most aggressive in the nation. My team proposes code changes based on a strong technical basis that go through thorough stakeholder vetting and will impact thousands or millions of buildings over the life of the code. Local governments (cities and counties) can be one step ahead of the state and adopt ordinances that exceed state code to meet energy and greenhouse gas reduction goals. I develop technical analyses in support of these ordinances, and it is exciting to see how quickly these can be enacted and implemented by a local government, allowing me to directly see the impact of my work.
Q: How did you get interested in your current field? What interests or circumstance drew you to it?
I have been interested in sustainability for a long time. I wanted it to be a focal point in my career path, but I had no idea how to do this or really what it looked like as a young graduate. The most obvious facet to me was renewable energy. I attempted to find work in this area but did not find the right position. I stumbled upon building energy and energy efficiency accidentally. I was looking for temporary work while visiting home and a temp service assigned me to an energy research firm. I quickly was hired as a full time engineer and conducted measurement and verification of utility energy efficiency incentive programs for buildings, among other tasks. That was in 2006 and since then I've returned to graduate school, completed a master's degree, and worked elsewhere, but remain in the same field.
Q: Tell us about some notable professional or personal accomplishments.
I took a semester off during my time at Hopkins to travel abroad to Spain.  At that time, there weren't many engineering study abroad programs that supported immersion in the local culture. My time in Spain provided me so many new perspectives and life skills and remains a very special part of my development. I have since traveled more and lived abroad in South America between undergraduate and graduate school. I encourage anyone even slightly interested in studying abroad to pursue it. And for those who aren't interested, find something else that puts you in a very different situation than what is typical and comfortable for you. You will learn a lot.
Q: What was the most valuable skill you learned at JHU that has helped you get to where you are now?
Independence and critical thinking. While I enjoyed a lot of the coursework and it provided a solid base of engineering knowledge, most of the details I have since forgotten. Most of us only use a subset of the broad education to which school exposes us; the knowledge we rely on in our careers is often more focused. But school teaches us so much more beyond academic curriculum.
Q: Do you have any advice to offer aspiring engineers?
Do not be discouraged if you don't find your path right after graduation – it can take a while. You may try work that you don't like – learning what you don't want to do is as important as finding what you do want to do. Don't give up! Your passion is important.