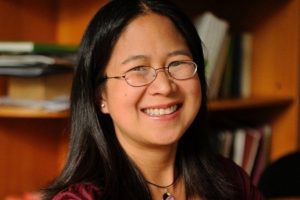 The American Society of Mechanical Engineering (ASME) has named Thao (Vicky) Nguyen, a professor of mechanical engineering and the Marlin U. Zimmerman Faculty Scholar at Johns Hopkins University, as the next co-editor-in-chief of the Journal of Biomechanical Engineering.
Nguyen's five-year term will begin January 2022.
The Journal of Biomechanical Engineering reports original research articles involving the application of mechanical engineering principles to the improvement of human health. The journal has a broad scope that ranges from basic biology to biomedical applications and includes theoretical, computational, experimental, and clinical studies. Established in 1977, the journal has published many important works in biomechanics and currently receives about 550 submissions a year.
Nguyen served as an associate editor at the journal from 2014-2020. As the editor-in-chief, Nguyen will oversee the management of peer reviews and manuscripts submitted to the publication.
She aims to elevate the impact of the journal by increasing the visibility and access to the journal's articles and broadening the authorship of the journal. She plans to publish special issues on emerging topics and comparative studies on computational and measurement methods in biomechanics and mechanobiology.
"One of my primary goals is to create a venue for the broader biomechanics and mechanobiology community, particularly our young investigators, to share their most exciting discoveries" said Nguyen.
An expert in the mechanics of polymers and biomaterials, Nguyen brings extensive professional and academic experience to the journal's helm. At Johns Hopkins' Mechanics of Soft Adaptive Materials Lab, she investigates the biomechanics of soft tissues and the mechanics of soft active materials, polymers, and polymer composites. Nguyen's research has provided insight on the role of mechanics in the growth and remodeling of the collagen tissues, and the development of glaucoma and other eye diseases. Her work has informed design tools and guidelines for the creation of shape-shifting biomedical devices and "smart" medical devices that function without wires or batteries.
Nguyen has won numerous awards for her research and scholarship, including the 2008 Presidential Early Career Award for Scientists and Engineers (PECASE) and the NNSA Office of Defense Programs Early Career Scientists and Engineer Awards for her work on modeling the thermomechanical behavior of shape memory polymers. She has received the NSF CAREER award, the Inaugural Eshelby Mechanics Award for Young Faculty, the ASME Sia Nemat-Nasser Early Career Award, and the T.J.R. Hughes Young Investigator Award from the ASME Applied Mechanics Division.
Nguyen received her bachelor's degree in mechanical engineering from Massachusetts Institute of Technology in 1998, and MS and PhD degrees from Stanford University in 2000 and 2004, respectively. Nguyen worked for three years as a senior member of the technical staff at Sandia National Laboratories in Livermore, California before joining Johns Hopkins in 2007. Currently, she is a professor in the Department of Mechanical Engineering with secondary appointments in Materials Science and Ophthalmology.