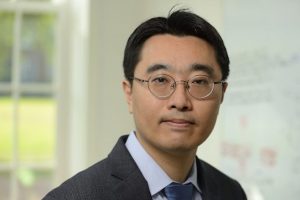 Sung Hoon Kang, HEMI Fellow and assistant professor in the Department of Mechanical Engineering, has been selected as a recipient of a Hanwha Non-Tenured Faculty Award.
Hanwha's Non-Tenured Faculty Awards program honors North America-based assistant professors of Korean heritage assistant with fewer than seven years of teaching experience in fields relevant to advanced materials, such as chemical engineering, chemistry, materials, and polymers. The awards are designed to cultivate an overseas R&D network, to expand the range of research and development, and to promote cooperative research and the development of technology through mutual exchange from the early stages of research.
Kang received an award from the advanced materials division of Hanwha Solutions for his research in additive manufacturing technology using various new materials. He received his award on June 8th via an online ceremony.