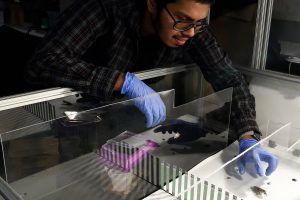 Researchers from the Department of Mechanical Engineering's Terradynamics Lab were named as finalists for Outstanding Locomotion Paper at the 2022 IEEE International Conference on Robotics and Automation (ICRA). The conference was held May 23-27 in Philadelphia.
The paper, "Omni-Roach: A legged robot capable of traversing multiple types of large obstacles and self-righting," was coauthored by graduate student Yaqing Wang and undergraduate research assistant Jonathan Mi; and Chen Li, assistant professor of mechanical engineering. 
In the paper, the authors describe how they developed a cockroach-inspired legged robot – called OmniRoach –  that can traverse multiple types of large obstacles and self-right, capabilities that are required for effective operation in complex 3-D terrain.  
To learn more about the team's research, watch this Youtube video.