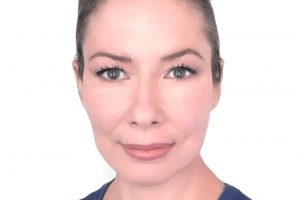 Maeve Garigan is the founder and CEO of Roper, a technology company focused on advanced wireless communications and wearables. Before founding Roper, she was a technology advisor and lead engineer for elite military commands, specializing in robotics, sensors, artificial intelligence, and mobility systems.
Garigan is the inventor on four pending patents related to Roper's technology and has two patents on prior work, U.S. 6,748,609 and U.S. 6,802,370. She recently co-authored three peer-reviewed publications: Secure Energy Constrained LoRa Mesh Network (2020), Adaptive Data Rate Techniques for Energy Constrained AdHoc LoRa Networks (2020) and Secure LoRa Firmware Update with Adaptive Data Rate Techniques (2021).
She holds an MA in International Economics and Strategic Studies from Johns Hopkins SAIS (2008), a BS in Mechanical Engineering from Johns Hopkins WSE (2001), and has completed extensive training in explosive ordnance disposal, tactical driving, and anti-terrorism/force protection.
What does your Hopkins education mean to you? How did it help you in your career?
Simply put, my undergrad education at Hopkins was a game-changer for me and my life trajectory. The intellectual power and drive of my fellow students was unlike anything I had ever experienced and that pushed me to expand my own intellect and creativity. This foundational experience continues to inspire me and my approach to research, design, and engineering.
What is one piece of advice you have for current Whiting School students and/or other WSE alumni?
Embrace what makes you different and shape that difference into a strength. We all have unique abilities and perspectives, so seek out what inspires you and find a place where you can flourish. This isn't always easy or obvious, and can take time to figure out. There is a huge amount of pressure on twenty-somethings to "get it right" but the reality is that there is no timeline or blueprint for success. For example, I come from a low-income, rural background—the type of background that really isn't celebrated in mainstream American culture. But that experience gave me tremendous resilience along with the ability to address the needs of massively underserved communities. That difference is one of the reasons why Roper is so successful.
What is your favorite memory from your time at Johns Hopkins, either inside or outside of the classroom?
Playing pickup soccer at midnight on the lacrosse field. I'm not sure if that was against school rules or not, but it was a lot of fun!
This Q&A is part of a series with the 2021 cohort of the Hopkins Engineering Alumni Spotlight Recognition Program.