When Gwendolyn Tsai first learned about the ramjet last fall, she could barely contain her excitement. She shared the Wikipedia page she'd been reading with friends on her senior design team, in awe of the hypersonic jet engine.
As one of 51 recipients of the Brooke Owens Fellowship, she'll get the chance to work hands-on with the technology at Hermeus Corporation in Atlanta. The company, founded in 2018, is focused on making commercially viable hypersonic engines, which have the potential to revolutionize air travel for civilians.
"It's kind of a dream come true," Tsai says. "This is the coolest piece of technology I've ever seen."
The fellowship, founded in honor of pilot and space industry pioneer Dawn Brooke Owens, offers space and aviation internships to women and other gender minority undergraduate students, as well as individualized mentorship based on their interests. The fellowship aims to support young professionals from historically underrepresented genders who "aspire to explore our sky and stars, to shake up the aerospace industry, and to help their fellow people here on planet Earth."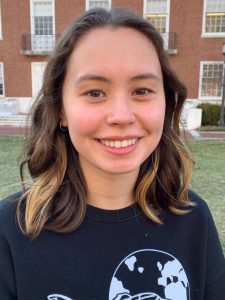 For Tsai, that support means fueling her interest in thermodynamics and fluid dynamics. As a senior mechanical engineering student at Hopkins, she's done research in Professor Rui Ni's fluid transport lab, as well as with Professor Natalia Drichko, where she studied microparticles in human tissue using Raman spectroscopy. As part of her senior design capstone project, she's been working with a team of students at the Space Telescope Science Institute to develop a model segmented mirror.
One of the more formative experiences for Tsai, however, was her internship with the Johns Hopkins Applied Physics Laboratory in the summer of 2020, which allowed her to do structural analysis on the Europa Clipper, an orbiter designed to investigate Jupiter's moon, Europa. The experience led her to believe that aerospace was a viable field for her interests.
All the hands-on experience she's had has helped her feel more confident as a researcher, Tsai says. As she works with Hermeus this summer, she's looking forward to engaging with the technology as she continues to pursue a career in the aerospace industry.
"I'm really excited to see these engines work and run, and [contribute] to the design," Tsai says. "One of the things I've gained an appreciation for during my time at Hopkins is being able to work hands-on with things – [to] actually touch things, manufacture them, assemble them. I find that really fun and I think it's super exciting to get to do that on such a complex problem that I find so interesting."