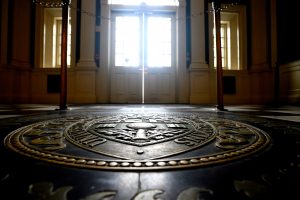 Understanding the spread of dengue by integrating human mobility and genomics data. Advancing K-12 school safety and security technology by developing comprehensive guidance for school administrators. Applying a systems biology approach to find novel protective mechanisms against atherosclerotic cardiovascular disease. Enhancing community life in underserved areas of Baltimore through musical and visual arts programs. Using multimodal MRI to noninvasively locate seizures in epilepsy patients.
These are among 32 multidisciplinary endeavors that have been selected to receive support this year from Johns Hopkins University's Discovery Awards program. Each project team includes members of at least two JHU divisions or other entities who aim to solve a complex problem and expand the horizons of knowledge.
Altogether, the winning project teams—chosen from a record 222 proposals—include 120 individuals representing 12 Johns Hopkins entities.
"This year's proposals attested to the intellectual creativity and collaborative spirit of our university," says Ronald J. Daniels, president of Johns Hopkins University. "With these awards, faculty will have the freedom to pursue new avenues for discovery with colleagues across our community and to take up the most pressing questions we face as a society."
Award recipients with ties to the Whiting School of Engineering include:
A Data-Driven Approach to Electricity Market Design – Enrique Mallada (Engineering), Marcelo Fernandez (Arts & Sciences) & Dennice Gayme (Engineering)
A Novel Method of High Flow Portable Oxygen Supplementation – Soumyadipta Acharya (Engineering) & Sonye Danoff (Medicine)
A Peer-led, Mobile Health-supported, Narrative-based Intervention to Enhance Linkage and Engagement in Medication Assisted Treatment (MAT) for Patients with Opioid Use Disorder (OUD) – Oluwaseun Falade-Nwulia (Medicine), Carl Latkin (Public Health), Stephanie Pitts (Applied Physics Lab), Lydia Gregg (Medicine), Mustapha Saheed (Medicine) & Joshua Steele (Applied Physics Lab & Engineering for Professionals)
A Platform for Brain-scale Imaging and Patterned Optogenetics at Cellular Resolution – Kishore Kuchibhotla (Arts & Sciences), Joshua Vogelstein, (Engineering) & Patricia Janak (Arts & Sciences and Medicine)
Brain Light: Brain Wide Reconstruction of Neuronal Circuitry – Ulrich Mueller (Medicine and Arts & Sciences) & Michael Miller (Engineering)
Cardiac Arrest Subphenotype Discovery Using a Very Large Intensive Care Database – Robert Stevens (Medicine), Ali Afshar (Medicine), Brant Chee (Medicine) & Ralph Etienne-Cummings (Engineering)
Creating Biomolecule-Polymer Hybrid Materials for Biocompatible Piezoelectric Devices – James West (Engineering) & Stephen Fried (Arts & Sciences)
Deciphering Psychotic Disorders: A Multi-modal, Transdiagnostic Approach – KunYang (Medicine), Akira Sawa (Medicine), Donald Geman (Engineering), Laurent Younes (Engineering) & Andreia Faria (Medicine)
Decoding the Biomechanics and Physics of Cetacean Biosonar – Rajat Mittal (Engineering), Sung Hoon Kang (Engineering), Cynthia Moss (Arts & Sciences), James West (Engineering) & Jung Hee Seo (Engineering)
Deep "X-map" for Acute Ischemic Stroke – Katsuyuki Taguchi (Medicine), Jerry L. Prince (Engineering), Nafi Aygun (Medicine), Ferdinand Hui (Medicine), Steven R. Zeiler (Medicine) & Jeffrey H. Siewerdsen (Engineering and Medicine)
Design of Interfaces between Porous and Non-Porous Materials for Energy Applications – Michael Tsapatsis (Engineering), V. Sarah Thoi (Arts & Sciences), Thomas J. Kempa (Arts & Sciences), Anthony Shoji Hall (Engineering), Tim Mueller (Engineering) & D. Howard Fairbrother (Arts & Sciences)
Extrinsic and Intrinsic Regulation of Stem Cell-Derived Cardiomyocyte Maturation – Chulan Kwon (Medicine), Hai-Quan Mao (Engineering) & Leslie Tung (Medicine and Engineering)
Harnessing Untapped Expanse and Depth in Public Next-Generation Sequencing Data to Explore Cortical Neurogenesis – Carlo Colantuoni (Medicine), Ben Langmead (Engineering) & Brian Caffo (Public Health)
Injectable Hydrogel Protected Islet Cells for Long-term Glycemic Control in Diabetes – Luo Gu (Engineering), Sangwon Kim (Medicine) & Claire Hur (Engineering)
Integrating Human Mobility and Genomics to Understand Dengue Spatial Dynamics – Lauren Gardner (Engineering), Amy Wesolowski (Public Health) & Justin Lessler (Public Health)
Integrative Systems Biology Approach to Decipher Novel Protective Mechanisms Against Atherosclerotic Cardiovascular Disease – Alexis Battle (Engineering), Marios Arvanitis (Medicine), Emily Brown (Medicine), Stephen Chelko (Medicine), Steven Jones (Medicine) & Thorsten Leucker (Medicine)
Johns Hopkins University Living Laboratory for Urban Mobility – Jeffrey Michael (Public Health), Johnathon Ehsani (Public Health), Tak Igusa (Engineering), Lauren Gardner (Engineering), John Benson (Applied Physics Lab) & Bob Bamberger (Applied Physics Lab)
Nerve-sparing Prostatectomy Using Neuromodulation-based Nerve Localization – Emad Boctor (Medicine), Arthur Burnett (Medicine), Jin Kang (Engineering) & Maged Harraz (Medicine)
NeuMeDiC – NeuroModulated Diabetes Control – Ralph Etienne-Cummings (Engineering), Sheng Bi (Medicine) & Qihong Wang (Medicine)
Noninvasive Seizure Localization in Epilepsy Patients via Multimodal Magnetic Resonance Imaging – Archana Venkataraman (Engineering), Emily Johnson (Medicine), Christophe Jouny (Medicine) & Haris Sair (Medicine)
Novel Techniques for Early Diagnosis and Monitoring of Organ Dysfunction in Critically Ill Children – Melania Bembea (Medicine) & Raimond Winslow (Engineering)
SMORE for CT-like Coronary Artery Angiography with MRI – Michael Schar (Medicine) & Jerry L. Prince (Engineering)
Adapted from The Hub. View the full list of award recipients on the Office of Research website.