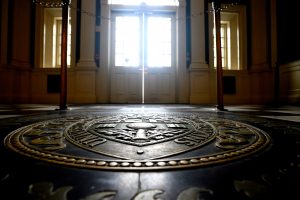 Johns Hopkins University graduate programs in education, engineering, public affairs, medicine, and nursing are among the country's very best, according to the annual U.S. News & World Report rankings of the nation's Best Graduate Schools released today.
Other disciplines, such as public health—which has held the No. 1 spot for 26 consecutive years—and the sciences, humanities, and social sciences, were not newly ranked this year. U.S. News will continue to use rankings from earlier years in those fields until they are ranked again.
The overall U.S. News Best Graduate Schools rankings are based on a number of indicators—including an institution's global and national reputation, publications and citations, research statistics, admitted student information, and other factors. Many rankings, including the specialty categories and this year's public affairs rankings, are determined by peer review.
Engineering
The Whiting School of Engineering remained No. 17 this year in metrics-based rankings, a position it tied for last year. In subcategories, the school was ranked by peers:
No. 1 in biomedical engineering
No. 14 in mechanical engineering
No. 19 in materials engineering
No. 20 in chemical engineering
No. 27 in electrical engineering
No. 27 in environmental engineering
No. 28 in computer engineering
No. 33 in civil engineering
"We are gratified that we continue to be counted among the nation's best engineering programs," says Ed Schlesinger, dean of the Whiting School.