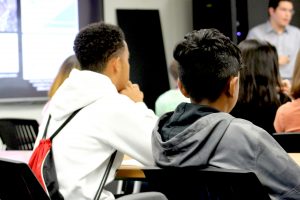 High school and middle school age students, along with educators and U.S Army Research Laboratory personnel, recently gathered at the Homewood campus for a crash course in 3D printing and other emerging technologies used by researchers at Hopkins Extreme Materials Institute (HEMI).
The half-day workshop was part of the Joint Science and Technology Institute for Students (JSTI), a two-week residential program that gives over 60 students from around the world the opportunity to work with engineers and Department of Defense scientists on cutting-edge science, technology, engineering, and math (STEM) research projects.
During the workshop, researchers from The Kang Group for Bioinspired Materials and Mechanical Systems gave presentations and lab demonstrations. The group, led by Sung Hoon Kang, an assistant professor in the Department of Mechanical Engineering, is working to develop next-generation materials and mechanical systems inspired by nature. In particular, the group studies how to control a material's structure and properties at the nano/micro/macro level. For example, one project involves making flexible and stretchable materials that can generate electrical energy from environment such as wind, water flow, and motions from a body. Such materials can be used in many areas from self-powered devices and wearable sensors to aerospace, naval and automotive parts, and medical implants.
Lauren Kirschner, a 16-year old from Seoul American High School in South Korea, was most excited to learn about the diverse applications of 3D printing. Because 3D printing can involve a variety of materials – metal, ceramics, polymers, and even gel and liquids– the possibilities are nearly endless.
"I'm working on a 3D printing project at JSTI, but we only work with hard plastic materials. Seeing that HEMI researchers can even 3D print more flexible materials like gel was really cool and different. Now I understand how they can 3D print things like organs," said Kirschner.
In fact, one of the current projects of the Kang Group (in collaboration with Prof. David Gracias' group in the Department of Chemical Biomolecular Engineering and Profs. Lewis Romer and Narutoshi Hibino at Johns Hopkins University School of Medicine) is the formulation of a new soft material to use in 3D printed, self-adaptable cardiovascular devices for infants with congenital heart defects. Galip Ozan Erol, a postdoctoral fellow working on the NIH-funded project, hopes to harness the physiological changes that occur during growth in order to create an implant that can adapt and grow with the child. The goal is to reduce the number of open heart surgeries and complications for these young patients.
"The heart is one of the most complex systems in nature," explained Erol. "But by using 3D and even 4D printing, we can adjust and customize the design of cardiovascular devices and other bioimplants for each patient."
After the workshop and a tour of HEMI facilities, students shared that career opportunities in the STEM field are much broader than they realized. "I've always been interested in computer engineering, but the JSTI program has shown me that there are many different tracts I can take with engineering," said Jared Baze, a 16 year old from Augusta, Georgia. "I really liked learning about bioimplants today– I had no idea you can 3D print something that can change shape like that."