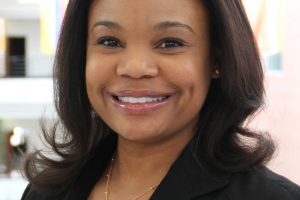 Nia Harrison, BS '00
Program Management Supervisor at Ford Motor Company
Hometown: Rochester, New York
Current City: Ann Arbor, Michigan
Current Position: Program Management Supervisor, Ford Motor Company
Other Degrees: MS in Mechanical Engineering, MS in Manufacturing, and Doctorate of Engineering in Manufacturing, University of Michigan
---
Can you describe your current role at Ford?
I've been at Ford Motor Company for over 13 years, where the bulk of my time (10 years) has been in researching various aspects of aluminum manufacturing technology (e.g. material formability, simulation, material characterization, die design, process development, etc.). Most recently, in January of 2018, I embarked on a new opportunity when I was selected to participate in the company's Product Development Leadership Program. The program is a three-year rotational experience for potential future leaders at Ford to increase their automotive acumen and breadth. So far, I've completed one rotation as a Production Line Supervisor in the F150 plant – paint shop. Currently, I'm a Program Management Supervisor working on delivering the planning, timing and program assumptions for an all-new (but top secret) Ford vehicle.
How did you get interested in your current field? What interests or circumstance drew you to it?
I ended up at Ford (and consequently in the automotive industry) due to being a recipient of the GEM Consortium Fellowship. GEM pairs underrepresented students pursuing a master's or doctoral degree in engineering with GEM employers based on technical skillset. As a GEM Fellow, I was paired with Ford and interned during the summers during my graduate studies at the University of Michigan. Honestly, I didn't know what I was getting into at the time – because the only thing I knew about cars before working at Ford was where gas and windshield wiper fluid went!
Tell us about your most notable/interesting professional accomplishments.
One of my biggest accomplishments was in 2015, when we launched Ford's aluminum-body F-150. At that point, I'd spent 10 years researching various aspects of aluminum for automotive applications. Prior to the F-150 launch, use of aluminum had not been used for the body structure of a high volume vehicle. My contribution was that I developed alternative heat treatments for sheet and extruded tubes to meet various performance metrics (such as yield strength, joining performance, distortion, and formability) for the F-150 truck.
Was there a particular course or project at JHU that made a big impact on you or influenced your career path? Why?
My graduate school studies focused on three areas, which can be attributed to the following courses I took at JHU: Materials Behavior taught by Kevin Hemker, Mechanics Based Design taught by K.T. Ramesh, and Manufacturing Processes taught by William Sharpe, Jr. Those three were some of my favorite professors at Hopkins. They enjoyed the topics as much as they enjoyed teaching us, which made the whole learning experience more interesting.
What was the most valuable skill you learned at JHU that has helped you get to where you are now?
Time management – I like to lead, participate and give back. This often means I'm devoting time to growing in my field through research partnerships, while being a good corporate citizen by supporting philanthropic initiatives, and supporting STEM fields through community involvement with local university, school, church, and recruitment activities.
Do you have any advice to offer aspiring engineers?
If I had to offer advice to aspiring engineers, it would be to establish relationships with individuals who can act as a mentor or advocate for you throughout your career journey. When it comes to career advancement, you will need someone with who you can share your career goals and who can help you with planning the next steps (mentor), but the ultimate decision of a career move will typically come down to a committee or consensus of a management team and there needs to be someone in the room who will endorse you (advocate). These individuals don't necessarily have to look like you, but they do need to have a shared investment in you achieving your long-term goals.
Tell us something interesting about yourself.
In my spare time I like to focus on lifetime learning activities like foreign language (currently working on Spanish), personal growth, and mindfulness. And whenever possible, traveling to new countries/cities and improving my golf game!