Mechanical engineering junior Caterina Esposito has received the Whiting School's 2019 – 2020 Irini J. Maroulis Award for her work with Volunteers for Medical Engineering (VME), a Baltimore non-profit that works to improve quality of life for individuals with disabilities.
The award, given by Maria Maroulis '96, '01, and dedicated to the memory of her mother, Irini J. Maroulis, recognizes a female undergraduate engineering student who best exemplifies her dedication to community service and outreach.
As Team Lead of the "Designing Our Future" VME chapter at Johns Hopkins, Esposito is developing assistive technology solutions to help people with disabilities thrive in their home, school, community, and work settings. The VME team is made up of eight students in the American Society of Mechanical Engineers: Angela Groszos, Emily Maheras, Mariah Harris, Radha Deshmukh, Randall Elkind, Nick Hinke, and Afareen Jaleel.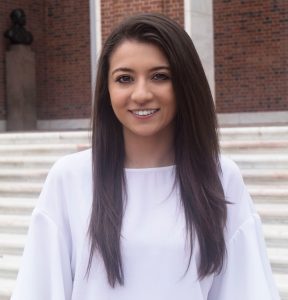 So far, the VME team has completed several projects to assist local children with disabilities, including a customized tricycle for a 7-year-old with dwarfism, a customized walker for a toddler with Cornelia de Lange syndrome, and a new scooter for a 3-year-old with cerebral palsy.
"VME's motto is 'independence through technology' and our products are truly a testament to this. I have seen a little girl take her first steps and a boy crawl on his own for the first time with the help of our devices. Delivering the products is an extremely rewarding experience. The team has worked tirelessly throughout the semester and I cannot thank them enough for taking time out of their busy Hopkins schedules to work on these projects," said Esposito.
The Irini J. Maroulis Award will help fund VME's next exciting challenge: to create a new guitar step that will make it easier for people with Parkinson's Disease to play the guitar.
Esposito is a dual student at Johns Hopkins Peabody Institute with a minor in guitar. After sitting in on a guitar class for students with Parkinson's, she realized that VME could develop an engineering solution that will allow Parkinson's patients to still jam out, despite the challenges of disease.
The project is a multi-disciplinary collaboration between Peabody, the Whiting School, and Johns Hopkins Medicine. According to Esposito, the Parkinson's Guitar Step Project is unlike any project the team has tackled before.
"The project is exciting because it's truly at the intersection of music, community service, and engineering. The products that will come out of this project are not just for a specific person; instead, they could be patented for use in Parkinson's hand therapy guitar classes worldwide."
In addition to the Maroulis award, VME has also recognized Esposito's work with the organization's 2018 Alumni of the Year Award. Esposito says that VME has been the perfect vehicle to combine her academic background and her longtime interest in community service.
"As I have continued through my academic career at Hopkins, I have been able to take on increasingly challenging projects, applying what I have learned in class on a larger scale to real-world problems. Being able to create a product that will change the lives of families, especially those with disabilities, is indescribable. I look forward to continuing this work for the foreseeable future," said Esposito.
Esposito was presented with the award at the 2019 WSE Convocation Awards Ceremony on May 6.