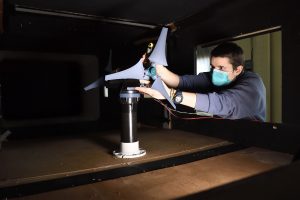 An annual rite of passage, Design Day is an opportunity for engineering students to prove that they can translate theoretical knowledge learned in classrooms and laboratories into creative, practical solutions to real-world problems. As part of this year's event on Tuesday, May 4, students from around WSE will present their work to sponsors and mentors from industry, faculty members, clinicians, fellow students, and other guests through virtual live d and recorded poster sessions and demonstrations.
One mechanical engineering project that attendees will learn about is a new approach to improve existing wind energy technology. The students have designed and built a miniature dual-rotor, counter-rotating wind turbine capable of harvesting more energy from the wind in a smaller space. Their design, which they tested this semester in Maryland Hall's wind tunnel, will compete in the U.S. Department of Energy's Collegiate Wind Competition and be presented at the American Wind Energy Association's CLEANPOWER virtual conference in June. Mentors from GE Renewable Energy provided the team with invaluable feedback, according to member Willa Grinsfelder, who also created and leads the Hopkins Student Wind Energy Team.
We caught up with Grinsfelder and Owen Friesen, who worked with fellow fourth-year student Annika Torp and a team of 11 other undergraduates, to talk about their project.
---
Q: What problem were you trying to solve or what system were you trying to improve with your design?
Friesen: Our team was tasked by the Collegiate Wind Competition with getting as much power as possible out of a small area of wind with an optimized wind turbine design. We were trying to improve on the performance seen by other schools with conventional horizontal-axis wind turbines.
Q: What does your design offer that previous designs do not?
Grinsfelder: Our team is designing a dual-rotor, counter-rotating wind turbine in order to harvest more energy from the wind in a small space. The counter-rotating wind turbine design choice has resonated throughout the rest of the design, requiring a transmission system, a different generator configuration than most teams use, and more complex controls that have tighter restrictions on their power draw.
Q: Why is this project important?
Friesen: Wind is now the dominant form of renewable energy in the United States, and fundamental research into ways to make it as efficient as possible is an important part of accelerating the energy transition. Our counter-rotating design, with its increased complexity and cost, is certainly not the best for all applications, but could be well suited to space-constrained environments. At the same time as our technical progress, we're also building a stronger team that will be better equipped to contribute to the wind energy workforce moving forward.
Q: What impact did the need to work on the project remotely have on you and your team?
Grinsfelder: We [did] a majority of our design work remotely, but we came together in the Wind Tunnel in Maryland 44, which is Professor Rui Ni's lab space, to test our wind turbine and work on integration of our designs. We're really grateful to Professor Ni for allowing us to use his space, it has made it possible for our team to do a lot more hands-on, collaborative work even in the middle of a pandemic.
Friesen: Working together remotely was definitely a big challenge we had to learn to overcome. We had to redefine how we wanted to compartmentalize our work to make sure that we were able to work independently from home, while still contributing to the larger system. I definitely wish we were working under better circumstances, but I think given the situation we made the most of it.
Q: How important has this senior design experience been to your mechanical engineering education?
Grinsfelder: I think that this is an important project because it equips us with the base line knowledge necessary to jump into careers in wind energy, and start tackling the problems that can help accelerate the national shift to decarbonize the energy sector.
Note: Other members of the team included Shivanie Ally, Caitlyn Bernhard, Diane Bershadsky, Kathy Cao, Eleni Daskopoulou, Ebuka Ezekwesili, Zach Galvarro, Yared Kokeb, Evan LaTourrette-Ghez, Isaac Lee, and Daniel Okereke.