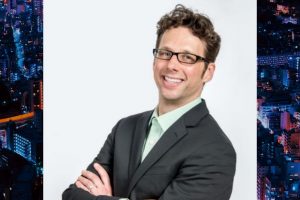 Gregory Scharfstein, BS '00, MSE '04
Hometown: Pleasantville, NY
Current City: Albany, CA
Current Position: Senior Technology Commercialization Associate at Berkeley Lab
---
Q: Can you describe your current role at Berkeley Lab?
I assess new technologies developed at Berkeley Lab and execute IP strategies and tech-to-market-fit analyses to transfer them to the private sector.
Q: How did you get interested in your current field? What interests or circumstance drew you to it?
It all started at JHU. After graduation, I worked for a small engineering group in the Department of Physics & Astronomy, and one of my colleagues made a comment about starting a company and licensing tech from JHU. This was the first time I heard of doing such a thing and had no clue how to do it – but the seed was planted.
Then, in late 2008 I quit my job at JHU and started a small engineering consultancy called Flexure Engineering. JHU let me take a small NASA contract with me since I was the only person working on it. I was able to grow this contract at NASA, and Flexure got up to about eight employees. We then hired a new CEO and ended up licensing technologies out of NASA Kennedy Space Center. We raised $2M and spun off a tech startup called XTherm, moved to Florida, and hired a team to commercialize the technologies. Unfortunately, we did not get through the "Valley of Death" and the startup was no more.
My family and I ended up moving to Sarasota for a couple of years while I managed a small business that designs and builds automation equipment for manufacturing. I eventually landed a mechanical engineering position with Berkeley Lab and moved back to the Bay Area. From a career standpoint, I had come full circle. At Berkeley Lab, there is a strong entrepreneurial spirit. I got involved in the Department of Energy's I-Corps Training, a lean startup methodology. This training program is run by the Intellectual Property Office and I built relationships with these folks as I went through the various training programs.
In Nov 2019, my current position opened up and I applied. I started this past February and am loving my new role.
Q: Tell us about some notable professional or personal accomplishments.
My startup Flexure Engineering won an award from NASA Goddard Space Flight Center for outstanding work on the James Webb Space Telescope Project. A current project that I'm excited about is building a technology and intellectual property content library on LinkedIn.
On the personal side, I'm very proud of my daughters, and the home my wife and I have built for them. I play the drums and once played a gig with The East Bay Brass Band at Yoshi's in Oakland, CA.
Q: Why did you choose Johns Hopkins for your BS/MSE?
At the time, I played baseball and I knew I wanted to get into engineering. JHU had the strongest engineering and baseball program for me.
Q: Was there a particular course or project at JHU that made a big impact on you or influenced your career path? Why?
As a junior, I started working for the engineering group in Physics & Astronomy. I eventually joined them after graduation and worked there for almost nine years. I also really enjoyed the Senior Design experience because of the hands-on work and interaction with an outside company.
Q: Do you have any advice to offer aspiring engineers?
Identify your passions and what your "superpowers" are. Write them down. Use the passions to find specific industries/ companies you could work for. Use the superpowers to find job titles to apply for. Then work really hard pursuing your passion by leveraging and growing your superpowers.
Oh yeah … finish your engineering degree! When it gets really hard, push through. An engineering degree is valuable for almost any line of work.
Q: Tell us something interesting about yourself.
I love to cook – smashed burgers and bulgoki are my specialties. I also like to make beats on a midi keyboard and post them to SoundCloud. I use the beats in my tech/IP posts on LinkedIn.