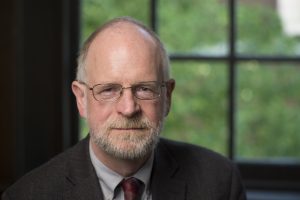 Welcome to the Spring 2020 issue of MechE Force! I am pleased to share with you a snapshot of our many activities and accomplishments in the last several months and what's ahead. To see some of what we accomplished as a department last year, watch our 2019 Year in Review Video.
I am happy to tell you that our students, staff, and faculty are doing well in these strange times. Like everyone else in higher education, we are continuing our work from home during the coronavirus pandemic. We seem to have made the transition with remarkably few serious glitches. That is, of course, not surprising at a place like Johns Hopkins Mechanical Engineering. Our students and faculty are problem solvers at their core. I am impressed by how quickly they have come up with creative ways to adapt to remote learning and research. Senior design and hands-on laboratory classes have required more ingenuity than lecture-based courses, but our instructors are making it work, even with the rapid change to online teaching. Our goal now is to do our very best to provide students with an educational experience comparable to what they would have on campus.
However, we have also discovered that a vibrant campus experience is important to our community. Residential universities are about much more than just classes or coursework. We miss interacting with each other in person – even those casual, unplanned encounters on the quad or in the dining hall. Students can no longer participate in the sports, clubs, and extracurricular activities that helped them bond with their classmates. We appreciate now more than ever that these opportunities are just as valuable as our academic offerings, and are a big part of why we are all here.
I look forward to keeping you posted on all the remarkable endeavors of our students, faculty, and alumni as we navigate this new reality together. I also invite you to explore our website, as it is constantly being updated with the latest news and information. If you'd prefer a more interactive experience, our Facebook and Twitter pages are a great place to learn about upcoming events, view photos, and interact with other Mechanical Engineering students, alumni, and friends.
As you read about our recent activities, please know that we are eager to hear from you as well. Feel free to email us at mech_eng@jhu.edu, call 410-516-6782, or even mail a letter to the Department of Mechanical Engineering, 223 Latrobe Hall, Johns Hopkins University, 3400 North Charles Street, Baltimore, MD 21218.
Best Regards,
Gretar Tryggvason
Department Head and Charles A. Miller, Jr. Distinguished Professor
Department of Mechanical Engineering