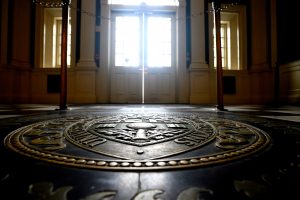 Johns Hopkins University graduate programs in public health, nursing, biomedical engineering, and medicine are once again among the country's very best, according to the annual U.S. News & World Report rankings of the nation's Best Graduate Schools.
The Whiting School of Engineering moved up for the fifth consecutive year into a tie for 17th. Johns Hopkins Mechanical Engineering is ranked 14th among the the country's mechanical engineering graduate programs.
The U.S. News Best Graduate Schools rankings, released today, are based on a number of indicators, including an institution's global and national reputation, publications and citations, research statistics, admitted student information, and other factors.
The biomedical engineering graduate program maintained its longtime top spot in the rankings. Other ranked specialties in engineering included:
Chemical engineering (20th)
Civil engineering (tied for 26th)
Computer engineering (tied for 28th)
Electrical, electronic and communications engineering (tied for 19th)
Materials engineering (tied for 16th)
Mechanical engineering (tied for 14th)
Environmental engineering and environmental health engineering ranked tied for 26th. Those programs are part of the Department of Environmental Health and Engineering, a joint program of the Whiting School and the Bloomberg School.
Adapted from The Hub. Click here to view more rankings for JHU graduate programs.